What ilift whitening
ilift whitening is leading the equipment in the field of aesthetics. Through the emission of positive ions it facilitates the penetration of the active principles contained in the vials, while thanks to the action of micro-massage gives tonicity and brightness to the skin. Within only 5 minutes a day to reduce the unsightly appearance of age spots and sun spots.
Propriety
Ilift whitening is to evenly distribute the formulation of laserlift whitening ampoule through special ball, which activates the active ingredients making them penetrate more deeply.
Laserlift botAction: the active ingredients
Laserlift whitening ampoules appears to be an original formulation with innovative active principles, for the first time associated together, in a lightening treatment can provide a synergistic action on the causes that determine the formation of skin spots.
Acid HPP (Hydroxyphenoxy Propionic Acid) b> is an innovative molecule with strong lightening properties.
The extract glycerine Blackcurrant antioxidant and anti-free radicals, increases the resistance of capillaries and slows cell aging.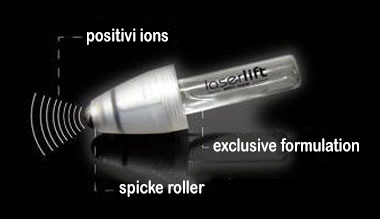 The interior of the ilift whitening head.
The green tea extract that has anti free radical and stimulating action.
Extract glycerine of Blueberry, Raspberry and Red Vine contains tannins and vitamin C with astringent, purifying and regenerating.
The extract glycerine Rice hydrating, softening and nourishing, rich in essential amino acids useful in the synthesis of collagen.
These activities have been verified by tests, supporting the effectiveness in reducing the blemishes of senile and sun spots, helping to rebuild every day healthier skin, young and beautiful.