Ilift is suitable for solving the problems of dry skin, fat skin, and skin with wrinkles.
It is suitable to do the treatment every day for normal, dry and aging skin, every 3-4 days for sensitive and fat skin.
People with very sensitive skin must use the ilift once a week.
We recommend to use ilift with rotating movements, without lingering over the eye contour. After one month of treatment, we recommend to use ilift once or twice a week.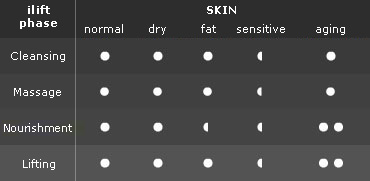 The picture shows the action of ilift in the various stages of treatment.
Each phase acts in an optimal way according to the type of skin that is a normal skin, oily skin, a sensitive skin or dry or aged skin.